Ask a question or
Order this book
Browse our books
Search our books
Book dealer info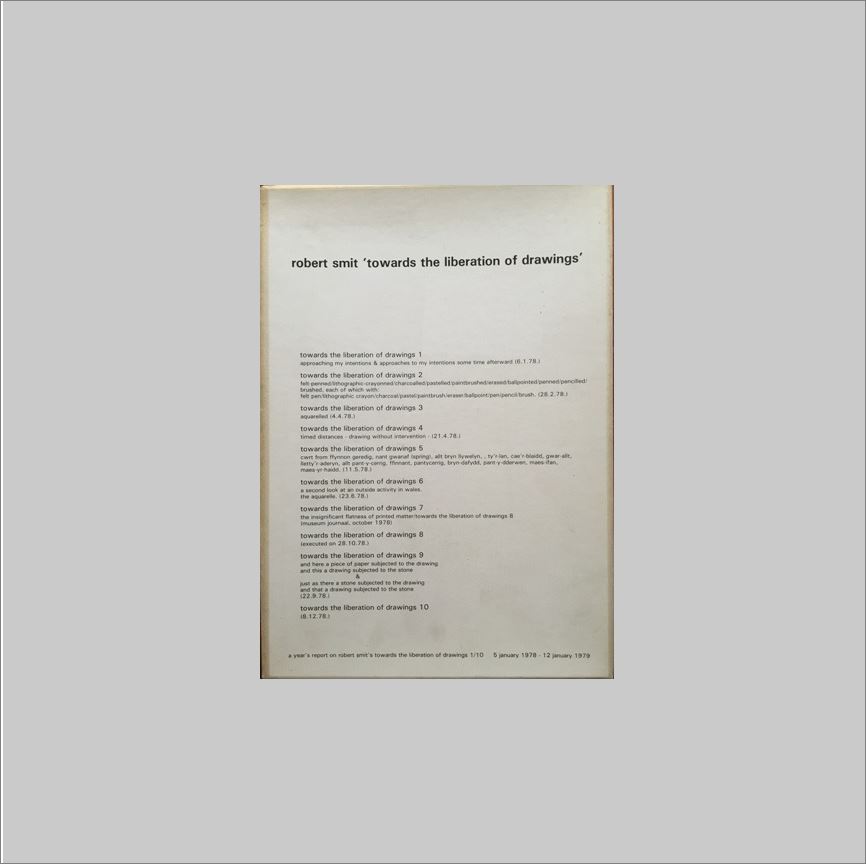 Author: SMIT, ROBERT (DELFT, 1941) - SCHAMPERS, KAREL & FRANK GRIBLING & RALPH TURNER & JAN J. SCHOONHOVEN.
Title: 'towards the liberation of drawings', a year's report on robert smit's towards the liberation of drawings 1/10 5 january 1978 - 12 january 1979. FINE COPY/RARE.
Description: Den Haag (The Hague), Orez Mobiel, 1979. Cardboard box with tipped-in letterpress index-sheet on lid, 32 x 23 x 3,5 cms., containing approximately 420 sheets with texts and illustrations entirely xeroxed, texts in English and Dutch. "In this series of exhibitions, robert smit has illustrated systematically-creatively, the in itself evident characteristic of independence - and its degree - of the materials, instruments, and act of drawing. This autonomy restricts the artist in a way that heightens tension, being one of the essential elements of creative activity": Jan J. Schoonhoven in colophon. 'In 1978 a series of 10 exhibitions in one year Towards the liberation of drawings at Galerie Orez Mobiel in The Hague, showed that Smit took his artistic research very serious, taking into account different conditions and a priori givens. All kinds of techniques and methods were explored in an incredible flow of productivity in which the act of drawing was central. Even a hiking tour in Wales turned into an exploration of drawing, an attempt to catch the village of Cwrt by approaching it from different angles while never reaching it. Drawing became a continuous source of making, remaking, copying and reproducing. For 15 years Smit was fascinated by the phenomenon of drawing, resulting in a solo exhibition at the Stedelijk Museum in Amsterdam in 1984'. Edition: 30 copies. 'As a boy Robert Smit attended a technical school for instrument making in his hometown Delft, and at the age of 19 he was repairing jewelry for a jeweller?s shop. In this period he met Zero artist Jan Schoonhoven, whom he visited almost every day, fascinated as he was by his personality, his art, and the jazz music they listened to'. Rarissime.
Keywords: Dutch Artists; 20th Century
Price: EUR

225.00

= appr. US$ 244.54 Seller: Luiscius Books

- Book number: 25144
See more books from our catalog:
Dutch Artists; 20th Century