Ask a question or
Order this book
Browse our books
Search our books
Book dealer info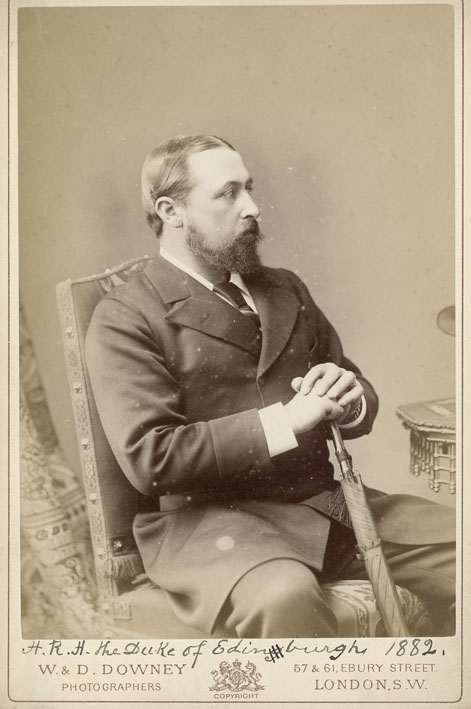 Author: DOWNEY, W. & D.
Title: Portrait of The Duke of Edinburgh.
Description: London, 1882. Original photograph, cabinetcard, albumen print, 16,5 x 10,5 cm. - W. & D. Downey, Photographers, 9 Eldon Square, Newcastle on Tyne; London Studio, 57 & 61 Ebury St. Eaton Square, London. Alfred (Alfred Ernest Albert; 6 August 1844 - 30 July 1900), reigned as Duke of Saxe-Coburg and Gotha from 1893 to 1900. He was the second son and fourth child of Queen Victoria of the United Kingdom and Prince Albert of Saxe-Coburg and Gotha. He was known as the Duke of Edinburgh from 1866 until he succeeded his paternal uncle Ernest II as the reigning Duke of Saxe-Coburg and Gotha in the German Empire. Alfred was born at Windsor Castle to the reigning British monarch, Queen Victoria, and her husband, Prince Albert of Saxe-Coburg and Gotha, the second son of Ernst I, Duke of Saxe-Coburg and Gotha. As a son of the British monarch, he was styled His Royal Highness The Prince Alfred at birth and was second in the line of succession behind his elder brother, The Prince of Wales. He was known to his family as "Affie", after a childhood mispronunciation of the name "Alfred". Alfred was christened by the Archbishop of Canterbury, William Howley, at the Private Chapel in Windsor Castle on 6 September 1844. His godparents were his mother's first cousin, Prince George of Cambridge (represented by his father, The Duke of Cambridge); his paternal aunt, the Duchess of Saxe-Coburg and Gotha (represented by his maternal grandmother, the Duchess of Kent); and Queen Victoria's half-brother, Carl, Prince of Leiningen (represented by The Duke of Wellington, Conservative Leader in the Lords). Alfred studied violin at Holyrood, Edinburgh, where his accompanist was Hungarian expatriate George Lichtenstein.
Keywords: united kingdom photo
Price: EUR

180.00

= appr. US$ 195.63 Seller: KRUL Antiquarian Books

- Book number: 58801