Ask a question or
Order this book
Browse our books
Search our books
Book dealer info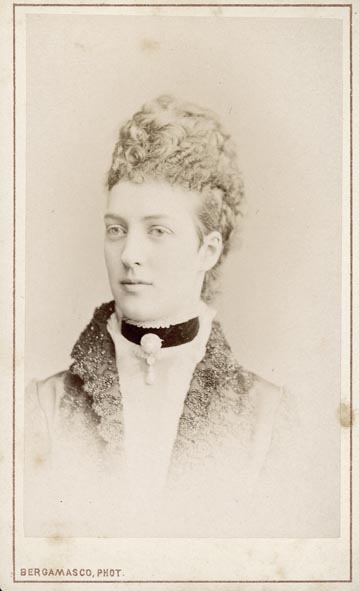 Author: BERGAMASCO, CHARLES.
Title: Portrait of Alexandra of Denmark.
Description: St. Petersbourg, ca.1870. Original photograph, carte de visite, albumen print, 9 x 6 cm. - Ch. Bergamaco, Photographe (Born in Northern Italy, Charles Bergamasco moved to St Petersburg in the 1840s with his mother, a painter. He started as an actor at the French Theatre in St Petersburg but became interested in the daguerreotype process and went to Paris to study it. He returned to St Petersburg to open his own studio and after a few years became well known there and in Europe, winning prizes at exhibitions, photographing at many courts and receiving several decorations. He visited England in 1877 and took a number of photographs of Queen Victoia and her family). Alexandra of Denmark (Alexandra Caroline Marie Charlotte Louise Julia; 1 December 1844 - 20 November 1925) was Queen consort of the United Kingdom and Empress of India as the wife of King-Emperor Edward VII. Her family had been relatively obscure until her father, Prince Christian of Schleswig-Holstein-Sonderburg-Glücksburg, was chosen with the consent of the great powers to succeed his distant cousin, Frederick VII, to the Danish throne. At the age of sixteen, she was chosen as the future wife of Albert Edward, Prince of Wales, the heir apparent of Queen Victoria. They married eighteen months later in 1863, the same year her father became king of Denmark as Christian IX and her brother was appointed to the vacant Greek throne as George I. She was Princess of Wales from 1863 to 1901, the longest anyone has ever held that title, and became generally popular; her style of dress and bearing were copied by fashion-conscious women. Largely excluded from wielding any political power, she unsuccessfully attempted to sway the opinion of British ministers and her husband's family to favour Greek and Danish interests. Her public duties were restricted to uncontroversial involvement in charitable work. On the death of Queen Victoria in 1901, Albert Edward became king-emperor as Edward VII, with Alexandra as queen-empress consort. From Edward's death in 1910 until her own in 1925 she was the queen mother, being a dowager queen and the mother of the reigning monarch, George V, although she was more generally styled Her Majesty Queen Alexandra. She greatly distrusted her nephew, German Emperor Wilhelm II, and supported her son during World War I, in which Britain and its allies fought Germany.
Keywords: united kingdom italy st.petersburg photo
Price: EUR

120.00

= appr. US$ 130.42 Seller: KRUL Antiquarian Books

- Book number: 58618