Ask a question or
Order this book
Browse our books
Search our books
Book dealer info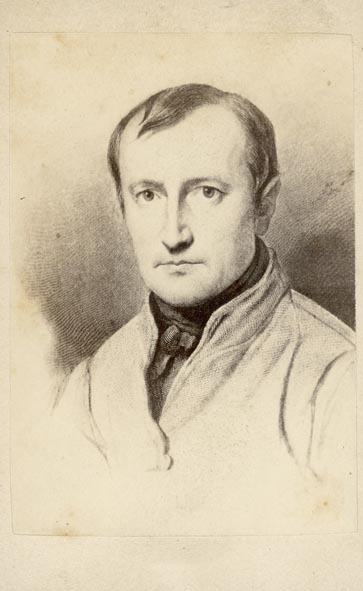 Author: DELAROCHE, F.
Title: Portrait of François Delaroche.
Description: Paris, ca. 1870. Original photograph, carte de visite, albumen print, 10 x 6 cm. Hippolyte De La Roche (Paris 17 July 1797 - 4 November 1856 Paris), commonly known as Paul Delaroche, was a French painter. He was trained by Antoine-Jean, Baron Gros, who was painting life-size historical subjects and had many students. The first Delaroche picture exhibited was the large Jehosheba saving Joash (1822). This exhibition led to his acquaintance with Théodore Géricault and Eugène Delacroix, with whom he formed the core of a large group of Parisian historical painters. He visited Italy in 1838 and 1843, when his father-in-law, Horace Vernet, was director of the French Academy in Rome. In 1845, he was elected into the National Academy of Design, New York, as an Honorary Academician. Delaroche's studio in Paris was in the rue Mazarin. His subjects were painted with a firm, solid, smooth surface, which gave an appearance of the highest finish. This texture was the manner of the day and was also found in the works of Vernet, Ary Scheffer, Louis Léopold Robert and Jean Auguste Dominique Ingres. Among his students were British landscape artist Henry Mark Anthony (1817-1886), British history painters Edward Armitage RA (1817-1896) and Charles Lucy (1814-1873), and American painter/photographer Alfred L. Boisseau (1823-1901).
Keywords: france photo
Price: EUR

42.00

= appr. US$ 45.65 Seller: KRUL Antiquarian Books

- Book number: 58561