Ask a question or
Order this book
Browse our books
Search our books
Book dealer info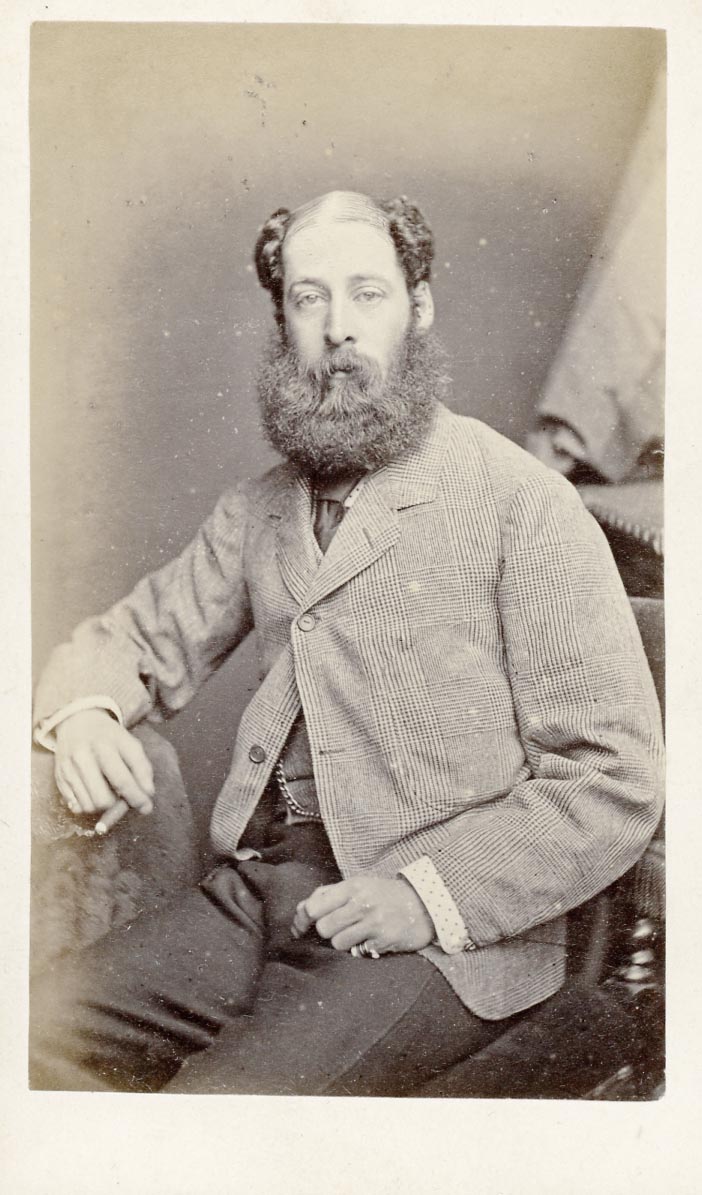 Author: BASSANO, ALEXANDER.
Title: Portrait of Lord Henry Paget, 4th Marquess of Anglesey
Description: London, ca. 1870. Original photograph, carte de visite, albumen print, 10,5 x 6,5 cm. - Henry Paget, 4th Marquess of Anglesey (25 December 1835 - 13 October 1898), was styled Lord Paget until 1880 and Earl of Uxbridge between 1880 and 1898, was a British peer. He served as Vice-Admiral of the Coast, North Wales and Carmarthenshire, and was an Honorable Colonel 2nd Volunteer Battalion of Royal Welsh Fusiliers. - Anglesey was the second son of Henry Paget, 2nd Marquess of Anglesey, by his second wife Henrietta Bagot, fourth daughter of Charles Bagot. On 30 January 1880 he succeeded to the title of 5th Earl of Uxbridge, co. Middlesex, 7th Baronet Bayly of Plas Newydd, Anglesey and Mount Bagenall, and 13th Lord Paget, of Beaudesert. He owned a large part of the County of Anglesey. Alexander Bassano, 122 Regent St, London. - Alexander Bassano (10 May 1829 - 21 October 1913) was the leading royal and high society portrait photographer in Victorian London. - He was the second youngest child of Clemente Bassano, originally a fishmonger of Cranbourne Street, later an oilman and Italian warehouseman of Jermyn Street, London. He opened his first studio in 1850 in Regent Street. The studio then moved to Piccadilly 1859-1863, to Pall Mall and then to 25 Old Bond Street in 1877. Bassano also had studios at: 122 Regent Street, 1862-76; 72 Piccadilly, 1870-81; 25 Old Bond Street, 1878-1903; 182 Oxford Street, 1889; 42 Pall Mall, 1891-92; 18 Alpha Road, 1892-96. There was also a company named "Bassano and Davis" at 122 Regent Street in 1866, a firm named "Bassano Limited" at 25 Old Bond Street from 1906 and a "Bassano's Studio's Ltd" at 25 Old Bond Street, 1904-05. The National Portrait Gallery, owner of a large number of Bassano's photographs, states that Bassano's firm was based at 25 Old Bond Street from 1876 to 1921. - In addition to the various London premises mentioned above, there was also a Bassano branch studio at 132 King's Road, Brighton from 1893 to 1899. - The Old Bond Street studio was decorated with carbon photographic prints and plaster busts, and was large enough to accommodate an 80-foot panoramic background scene mounted on rollers, which provided a variety of outdoor scenes or court backgrounds. He had taken portraits of William Ewart Gladstone and even Queen Victoria. Bassano's head of Lord Kitchener formed the basis of the First World war recruiting poster Your Country Needs You. Bassano retired from work at the studio around 1903, when the premises were extensively refurbished and relaunched as "Bassano Ltd, Royal Photographers". - The studio moved once again in 1921: a move written about by the Lady's Pictorial at the time. The article described about a million negatives, all systematically numbered, which had to be moved from the cellars of the premises to the new location at 38 Dover Street. The company became "Bassano and Vandyk" in 1964. The following year it incorporated Elliott & Fry, a photographic partnership that had been running in Baker Street since 1863. In 1977, the company became "Industrial Photographic", based at 35 Moreton Street, SW1. - Many glass plates from the Bassano Studios, including some by Alexander Bassano, are held in the National Portrait Gallery, London. The Museum of London holds a large number of the fashion-related plates. His sister Louisa Bassano was a noted singer and teacher. (Wikipedia).
Keywords: england london photo united kingdom
Price: EUR

96.00

= appr. US$ 104.34 Seller: KRUL Antiquarian Books

- Book number: 56444