Ask a question or
Order this book
Browse our books
Search our books
Book dealer info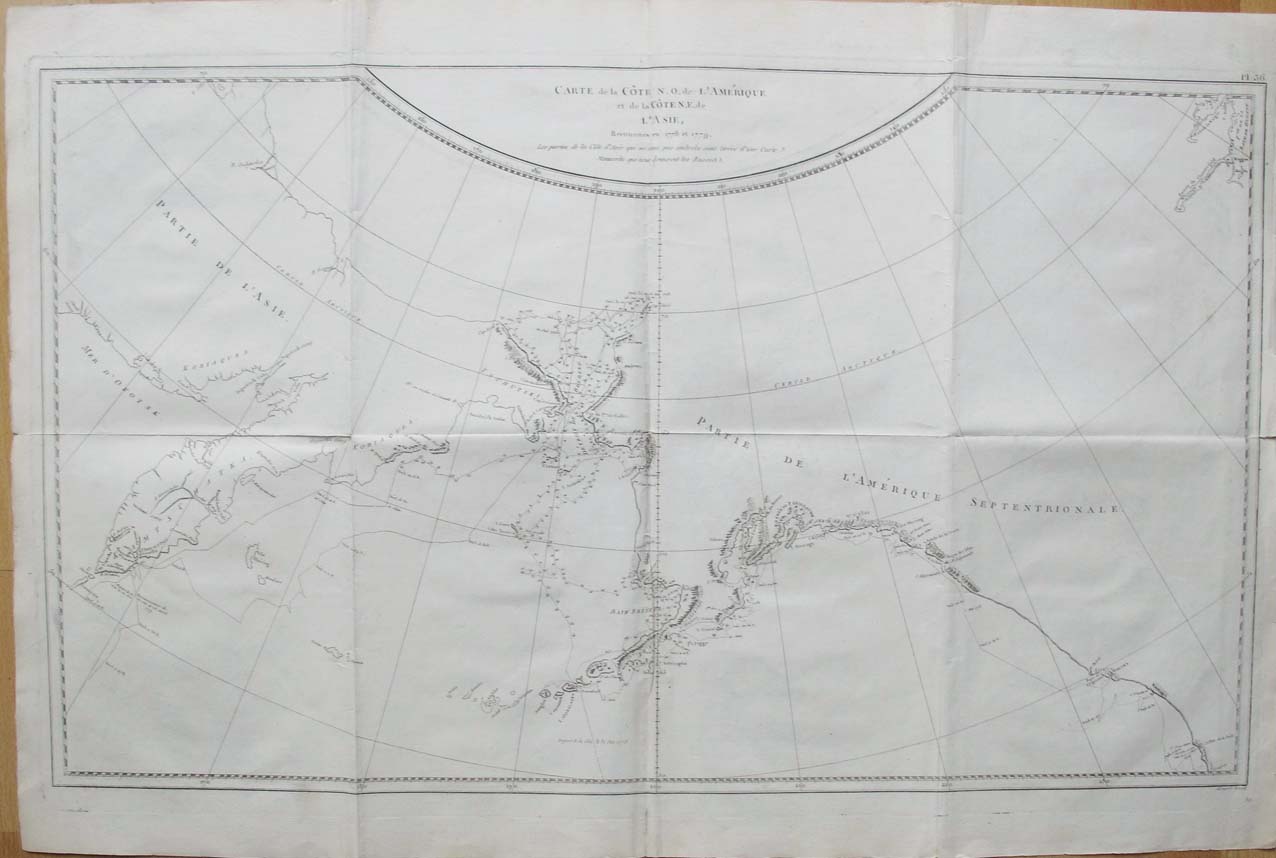 Author: BENARD, ROBERT.
Title: Carte de la Côte N.O. de l'Amérique et de la Côte N.E. de l'Asie, Reconnues en 1778 et 1779. Les Parties de la Cote d'Asie qui ne sont pas ombreés sont tirées d'une Cartes Manuscrits que nous donnerent les Russes
Description: Paris, 1785. From the first French edition of the Official Account of Cook's Third Voyage, 39 x 66 cm, uncoloured. Engraved by Robert Benard. After Capt. James Cook's death in Hawaii in february 1779, Charles Clerke, the Captain of Cook's ship "Discovery" took command of the "Resolution", the primary vessel of Cook's Expeditiion to the Pacific, & John Gore, Cook's 1st Lieutenant took command of the "Discovery". Together Clerke and Gore took the ships up to the Bering Strait & Russian Alaska to survey & chart the arctic regions, in order to fulfill Cook's own plans, now thwarted by his death. This finely engraved chart by Robert Benard, shows the tracks of Cook's ships in 1778 and 1779 along America's Pacific northwest coast to Prince William Sound & Cook's River, around the Aleutians and through the Bering Strait. Finding the region too icy to continue northward, the ships turned and headed down the Russian coast to Kamtchatka. From thence the ships returned to England via China, the East Indies & the Cape of Good Hope in South Africa. This chart is from the French Edition of "Cook's Voyages".
Keywords: canada alaska arctic maps
Price: EUR

240.00

= appr. US$ 260.84 Seller: KRUL Antiquarian Books

- Book number: 28265