Ask a question or
Order this book
Browse our books
Search our books
Book dealer info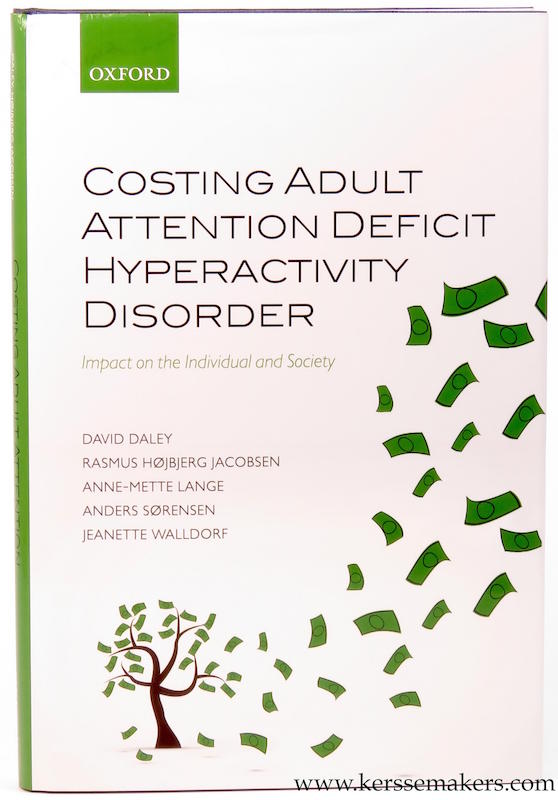 Author: DALEY, DAVID / RASMUS HØJBJERG JACOBSEN / ANNE-METTE LANGE / ANDERS SØRENSEN / JEANETTE WALLDORF (EDS.).
Title: Costing Adult Attention Deficit Hyperactivity Disorder. Impact on the Individual and Society.
Description: Oxford, Univeristy Press, 2015. Original hardcover, dustjacket. 272 pages, 19 Figures and 76 Tables ; 24x16 cm. "The Rockwool Foundation Research Unit" Text in English - Very good, as new. See picture. Back cover:'The rapid increase in recent years in the number of children and adults accessing care for ADHD (Attention Deficit Hyperactivity Disorder), raises a number of questions. It is unclear whether the increase is due to an increased public and professional recognition and awareness of ADHD as a debilitating human condition or to an actual increase in the incidence of individuals suffering from ADHD. Depending on the reasons behind the increased burden on services, and whether more effective treatments can be found, the future costs to society could be enormous. The study presented in this book estimates the private and social costs of ADHD. / The key focus of this book is to study the costs related to individuals with ADHD who have not been diagnosed and who have not received treatment. In this respect, the study makes a unique contribution to scientific knowledge by investigating the cost of untreated ADHD. The study investigates the extent to which individuals with undiagnosed ADHD in childhood fare differently compared to otherwise similar individuals without ADHD. A long list of important parameters in an individual's life, e.g. educational attainment, occupational status, income, family situation, criminal record, health is examined. The results of the study provide not just cost estimates of ADHD; per se, but also create a point of reference which will be highly relevant for the evaluation of any future treatment for ADHD. / The clear picture emerging from this study is that ADHD is associated with considerable private and social costs, reflecting that Adults with ADHD exhibit weak performance across all applied measures. These findings remain even when adults with ADHD are compared to a control group of their own siblings Even though the study is performed for Denmark it is argued that generalizability of the established results beyond Denmark is valid. ISBN: 9780198745556. Gewicht/Weight: 560 grs.
Keywords:
Price: EUR

40.00

= appr. US$ 43.47 Seller: Boekhandel-Antiquariaat Emile Kerssemakers

- Book number: 39921