Ask a question or
Order this book
Browse our books
Search our books
Book dealer info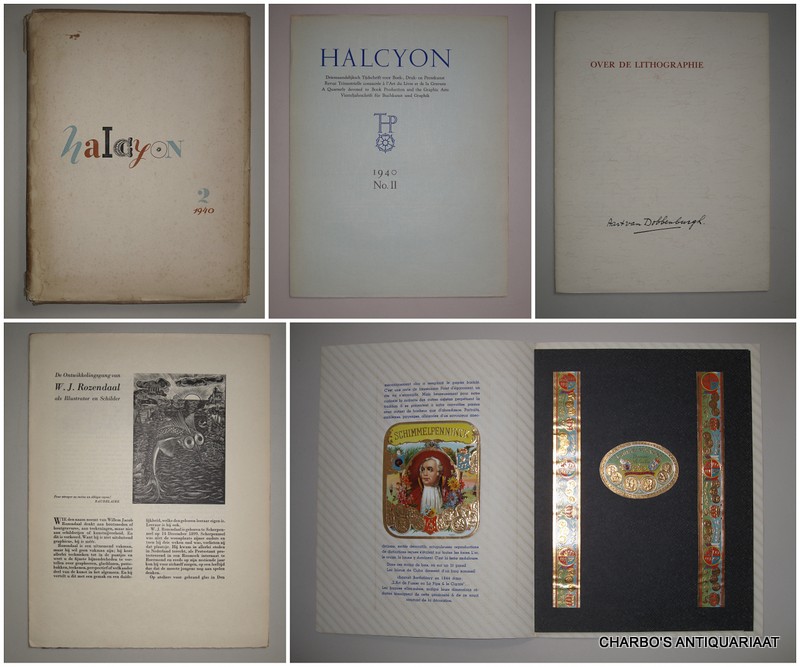 Author: STOLS, A.A.M. (RED.),
Title: Halcyon. Driemaandelijksch tijdschrift voor boek-, druk- en prentkunst. A quarterly devoted to book production and the graphic arts. 1940 No. II.
Description: Rijswijk, Stols, 1940. 4to. Compleet met 14 bijdragen in losse bladen/katernen + 3 extra adv. bijlagen. Met talr. afb. (ged. in kleur), incl. 5 originele prenten van Aart van Dobbenburgh, W.J. Rozendaal, Pam G. Rueter (wat roestvlekjes) en Piet Worm (2x). In or. omslag. (Omslag wat vlekkig, rugeinden ingescheurd; intern in goede staat). ¶ Bijdragen van/over o.a. H. van de Waal (Ortelius), Sepp-Nozeman (Ned. vogelen), Aart van Dobbenburgh (lithografie), A. Roland Holst & Ed. Hoornik (in memoriam H. Marsman), G.H. 's-Gravesande (W.J. Rozendaal), Jos. de Gruyter & H. Levigne (Ned. postzegels), J.W. Hofstra (Pam G. Rueter). - With summaries in French, English, German.
Keywords: Boekgeschiedenis typografie drukkerij Grafiek art Nederland Netherlands Holland Dutch ..m. 1940
Price: EUR

60.00

= appr. US$ 65.21 Seller: Charbo's Antiquariaat

- Book number: 59752
See more books from our catalog:
U. Fine & applied arts