Ask a question or
Order this book
Browse our books
Search our books
Book dealer info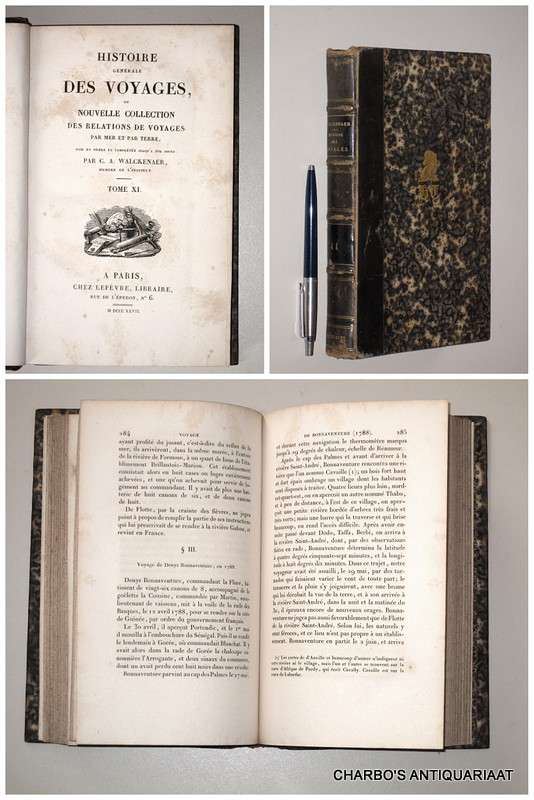 Author: WALCKENAER, C.A.,
Title: Histoire générale des voyages, ou nouvelle collection des relations de voyages par mer et par terre. Tome XI (Voyages en Afrique. Livre XII: Suite des premiers voyages dans le Golfe de Guinée, depuis le Royaume de Benin jusq'au Cap Lopez-Gonzalvo).
Description: Paris, Lefèvre, 1827. 560 pp. Hardcover. Contemp. half morocco, spine gilt. (Top of spine sl. dam.; occas. light foxing/browning). VG. ¶ Incl. voyages by Barbot & Grazilhier, Pruneau de Pommegorge, Robert Norris, MacLeod, Girardin, de F lotte, Denys Bonnaventure, Paul Erdman Isert, Henry Nicholls, Meredith, Robertson, John Adams; European settlements in the area.
Keywords: . Dutch colonial colonies. Slavery slave trade West African coast lands. c.. 1600 1823
Price: EUR

65.00

= appr. US$ 70.65 Seller: Charbo's Antiquariaat

- Book number: 59654
See more books from our catalog:
A. Voyages, exploration