Ask a question or
Order this book
Browse our books
Search our books
Book dealer info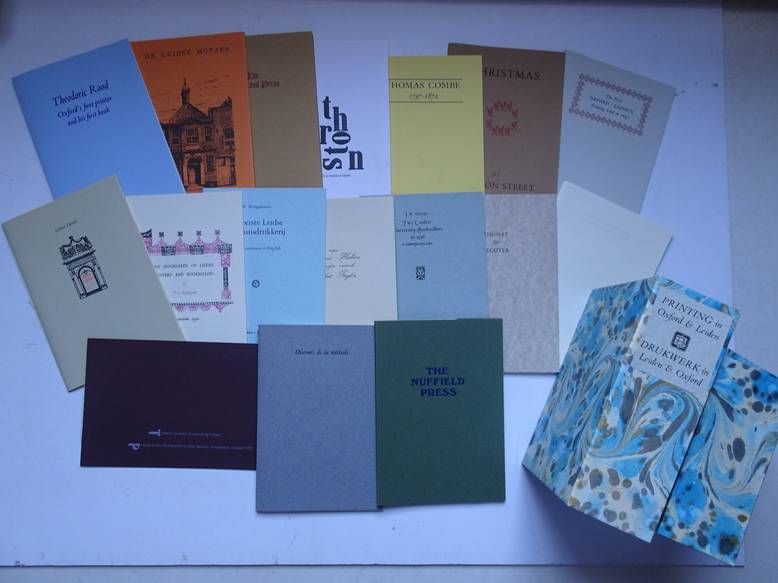 Author: VAR. AUTHORS.
Title: Printing in Oxford & Leiden/ Drukwerk in Leiden & Oxford. A joint project between members of the Oxford Guild of Printers in England, and Stichting Drukwerk in de Marge in Holland. Complete set of 17 publications.
Description: Oxford, Leiden; 1990; set of 17 equally sized publications; in cardboard box; includes folding leaf with list of contributors; Alex Barbaix, Amsterdam, "Thibaut, l'Academie de l'Epees"; Claire Bolton, Alembic Press, Oxford, "The first Oxford-Leiden printing link"; Conant Brodribb, Demi-Griffin Press, Oxford, "Theodoric Rood, Oxford's first printer & his first book"; Jacques de Coo, Clipeus Pers, Leiden, "Leiden's first Town Hall Press"; Rob Cox, Veerpers, Amsterdam, "Descartes, discours de la methode"; Michael Daniel, Atlantis Press, Oxford, "Thomas Coombe"; Andrew Dolinski, Carpathian Press, Reading, "Thornton's of Oxford & Leiden"; Kenneth Hardacre, Kit-Cat Press, Moreton-in-Marsh, "The Holy Rood Press"; Piet Jacobs, Priegelpers, Haarlem, "Thomas Devechter, a Leiden Typefounder about 1600; Frans de Jong, Amsterdam, "The signboards of Leiden printers & booksellers"; Jan Keijser, Avalon Pers, Woubrugge, "Brill, Leiden"; Jos Kerkhof, Cobbenhagen Pers, Tilburg & Ex Officiana Gergoviana, Loon op Zand, "Francois Halma to Robert Taylor"; Bert Post, Nieuwkoop, "the Leiden Hofjes"; Andrew Schuller, Word Wynker Press, Oxford, "Christmas at Walton Street"; John Smith, Old Forge Press, Adderbury, "The evolution of the Nuffield Press"; Kees Thomassen, de Uitvreter, Leiden, "Two Leiden University booksellers"; Dick Wessels, Maastricht, "De Illegale Drukkerij van William Brewster in Leiden"; box made by Chris Hicks, Oxford; published in a limited edition of 150, occasionally numbered, copies; each publication ca. 10-15 pp.Very fine set.
Keywords: bibliophile editions/bibliofiele uitgave bookprinting/boekdrukkunst printing/drukkunst typography/boekdrukkunst
Price: EUR

145.00

= appr. US$ 157.59 Seller: Antiquariaat De Boekenbeurs

- Book number: 25616
See more books from our catalog:
Typography