Ask a question or
Order this book
Browse our books
Search our books
Book dealer info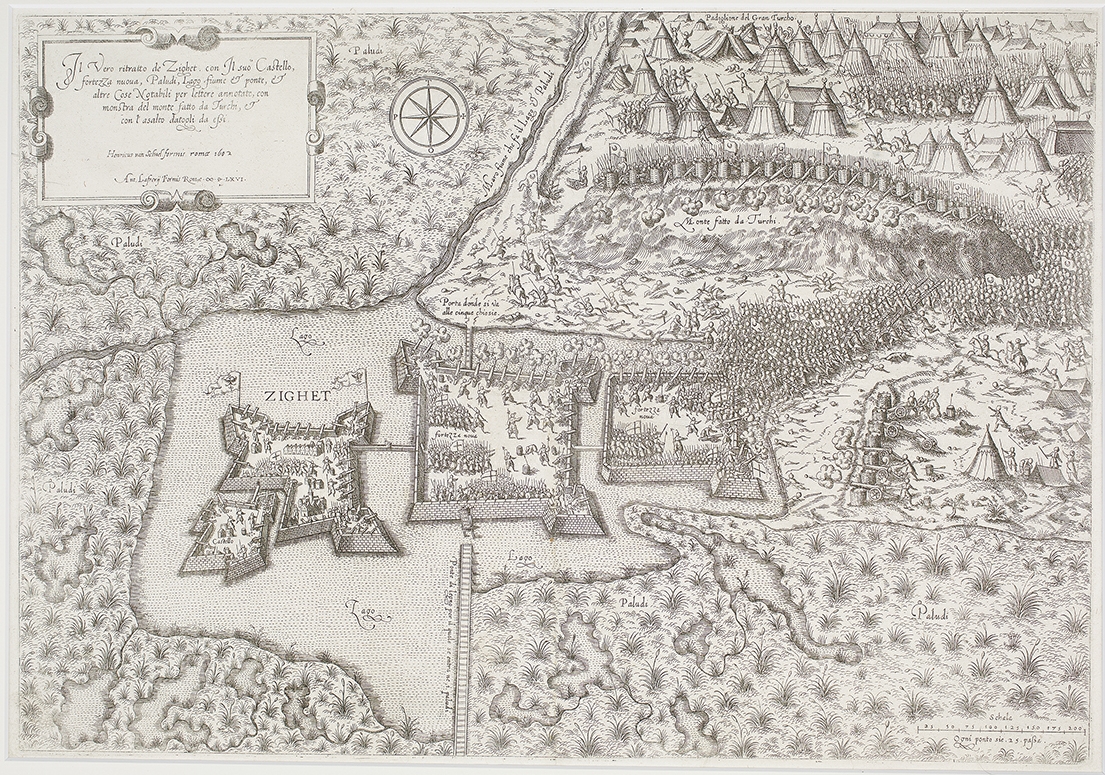 Author: LAFRERI, ANTONIO (HENDRICK VAN SCHOEL).
Title: Il Vero ritratto de Zighet con Il suo Castello, fortezza nuova, Paludi, Lago fiume & ponte, & alter Cose Notabili per lettera annotate, con monstra del monte fatto da Turchi
Description: Roma 1602.Engraved plan. Framed 34 x 49 cm.The second state of Antonio Lafrere's map of the Battle of Szigetvar, which saw the death of Sultan Suleiman the Magnificent. The battle was fought between the defending Magyar forces under the leadership of Nikola Subic Zrinski, former Ban of Croatia, and the invading Ottoman army under the nominal command of Sultan Suleiman.The map shows a meticulous image of the battle, with the Magyar forces battling from the walled castle and "fortezza nova", defending the Ottoman forces firing across the water, with mounted horseman and canon shown. The location of the tent of Suleiman (Padiglione del gran turcho) is shown in the top of the map. The siege lasted from August 6 to September 8 1566 and though it resulted in an Ottman victory, there were heavy lossen on both sides. Both commanders died during the battle - Zrinski in the final charge and Suleiman in his tent from natural causes.
Keywords: Europe Turkey prints turkey
Price: EUR

3245.00

= appr. US$ 3526.82 Seller: Gert Jan Bestebreurtje Rare Books (NVvA/ILAB)

- Book number: 35268