Ask a question or
Order this book
Browse our books
Search our books
Book dealer info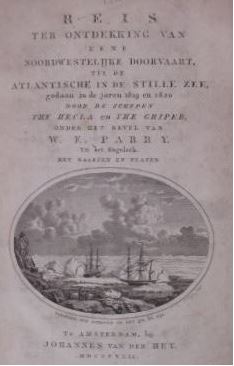 Author: PARRY, WILLIAM EDWARD.
Title: Reis ter ontdekking van eene noordwestelijke doorvaart, uit de Atlantische in de Stille Zee, gedaan in de jaaren 1819 en 1820 door de schepen The Hecla en The Griper. Uit het Engelsch.
Description: Amsterdam, Johannes van der Hey, 1822.Later half sprinkled calf, spine lettered in gilt. With engraved title-page with oval view of the ships The Hecla and The Griper (sl.soiled), folding aquatint depicting the Hecla and The Griper, folding plan of the harbour on Melville Island, and large folding map (ca. 34 x 64 cm) with hand-coloured routes. XII,333, (2) pp.First Dutch edition; first English edition of Journal of a voyage for the discovery of a North-West passage from the Atlantic to the Pcific. London, 18121). - By August 1, 1819, Sir William Edward Parry (1790-1855) had managed to sail westward completely through Lancaster Sound, establishing that it was actually a strait. He then made the European discovery of Barrow Street, which he named after Sir John Barrow. Continuing westward, he reached the south coast of a large island he named Melville Island after Lord Melville. Parry and his men had sailed west of the 110th meridian of longitude, half the distance of the Northwest Passage, and thereby won a prize of £ 5.000, which Parliament had offered as an incentive for the discovery of the Northwest Passage. After being frozen in for ten months, the ships were released on August 10, 1820, but the ice prevented further progress westward, and Parry returned to England. Parry's famous first journal gives a full account of the voyage and discoveries. - A fine copy of the rare Dutch edition.Cat. NHSM I, p.304-305; Arctic Bibl. 13145; Hill I, p.225-26); Sabin 58863; Howgego II, pp. 464-465; Hill 1311; Staton & Tremaine, 1206; Not in Tiele.
Keywords: Arctic Canada Dutch travel
Price: EUR

1595.00

= appr. US$ 1733.52 Seller: Gert Jan Bestebreurtje Rare Books (NVvA/ILAB)

- Book number: 25663