Ask a question or
Order this book
Browse our books
Search our books
Book dealer info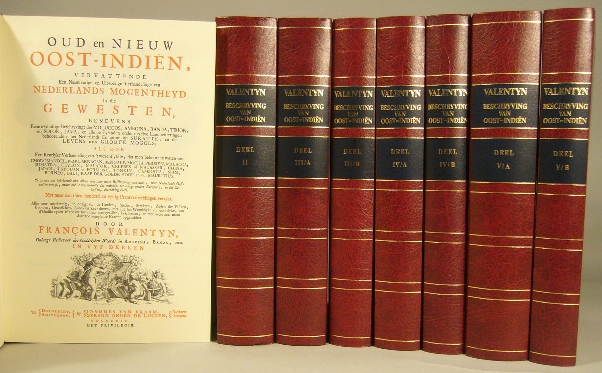 Author: VALENTIJN, FRAN«OIS.
Title: Oud en Nieuw Oost-IndiŽn, vervattende een naaukeurige en uitvoerige verhandelinge van Nederlands Mogentheyd in die gewesten, benevens eene wydlustige beschryving der Moluccos, Amboina, Banda, Timor, en Solor, Java .. Suratte .. Choromandel, Pegu, Arracan, Bengale, Mocha, Persien, Malacca, Sumatra, Ceylon, Malabar, Celebes of Macassar, China, Japan, Tayouan of Formosa, Tonkin, Cambodia, Siam, Borneo, Bali, Kaap de Goede Hoop en van Mauritius.
Description: Dordrecht, Amsterdam, J. van Braam, G. onder de Linden, 1724-1726. Reprint. Franeker, 2002-2004. 5 volumes in 8. Folio. Artificial leather. With 241 portraits, maps, plates and illustrations.One of the most extensive works on the history of the Far East (including Persia), which never can be superseded as many of the documents of which the author made use, do not longer exist. FranÁois Valentijn (1666-1727) was a minister of the Dutch Reformed Church who lived for many years on Amboyna and Java. During this period he collected an enormous mass of information, especially in the fields of history, geography and ethnology, concerning all parts of the world where the VOC was active: Indonesia, with large parts on Batavia and the Moluccas, Persia, Malacca, Ceylon, India, Cape of Good Hope, Japan, China and Formosa, etc.. The work is profusely illustrated with numerous fine engraved maps, plans, portraits and spectacular views. They are engraved by the best artists of the time like F. Ottens, J.C. Philips, G. Schouten, J. Goeree etc. mostly after designs by M. Balen. Apart from the fine engravings the work is of particular interest for its cartography. It contains interesting maps of Australia, probably drawn after manuscript maps now lost. For his descriptions of the natural history of Amboyna Valentijn used i.a. the unpublished 'Amboinsch Dierboek' by the famous naturalist Rumphius, of which the original manuscript has been lost.
Keywords: Africa Asia Ceylon Sri Lanka Dutch travel India Indonesia Indonesia general Japan Moluccas South Africa VOC Dutch East India Company
Price: EUR

412.50

= appr. US$ 448.32 Seller: Gert Jan Bestebreurtje Rare Books (NVvA/ILAB)

- Book number: 24014