Ask a question or
Order this book
Browse our books
Search our books
Book dealer info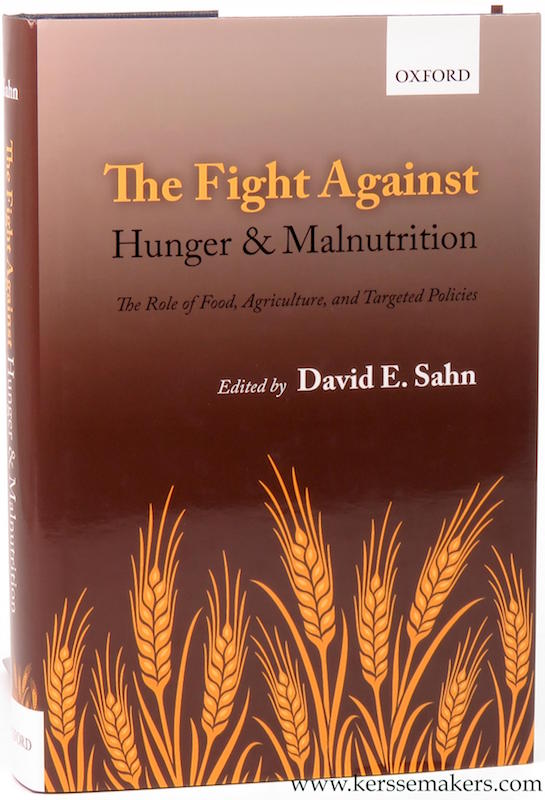 Author: SAHN, DAVID E. (ED.).
Title: The Fight Against Hunger and Malnutrition. The Role of Food, Agriculture, and Targeted Policies.
Description: Oxford, Univeristy Press, 2015. Original hardcover, dustjacket. 528 pages. Figures and Tables ; 24x16 cm. Text in English - Very good, as new. See picture. Text on d.j.:'Advances in science and policy during the past 50 years have prevented the predicted widespread food shortages as the world's population soared. Malnutrition, however, remains prevalent. This book details strategies and practical approaches designed to alleviate hunger and malnutrition in a new era where technological change, markets, patterns of governance, and social programs have an increasingly global dimension. More specifically, this book addresses a range of considerations including the role of small farmers in a world where the global reach of multinational corporations have enormous control from the farm to local markets and the grocery store; misgivings and misperceptions about genetically modified foods; the increasing competition of food and energy sectors for agricultural output; the importance of micronutrient deficiencies and chronic disease related to obesity, which often coexists in the same communities as hunger; and issues of sustainability of the food and agricultural system in an period when there is increasing concerns over global warming and environmental degradation. Currently there is also more emphasis on evidence-based policymaking, which has raised the standard of proof for evaluating the impact of micro-level interventions that have traditionally been so widely embraced and are now under increased scrutiny. It is in this context that this book provides practical advice on programs that can effectively target those at greatest risk of malnutrition and guidance on policies to promote a healthy and sustainable food and agricultural system. Overlaying all of these challenges is the book's emphasis on both identifying data and information needs for decision-making, and practical considerations for better understanding the domestic and international political and social constraints that need to be addressed when trying to translate scientific knowledge and information into practice. ISBN: 9780198733201. Gewicht/Weight: 940 grs.
Keywords:
Price: EUR

55.00

= appr. US$ 59.78 Seller: Boekhandel-Antiquariaat Emile Kerssemakers

- Book number: 39924