Ask a question or
Order this book
Browse our books
Search our books
Book dealer info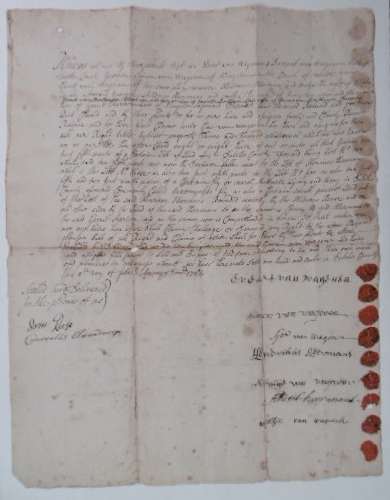 Author: WAGENEN. - DUTCH NEW YORK.
Title: Deed from the Van Wagenen family, conveying land from Evert van Wagenen and others to Goss van Wagenen in Dutch New York.
Description: Manuscript on paper dated February 8, 1724/1725. Signed by five Van Wagenens and two Heermans with wax seals. Ca. 41,5 x 32,5 cm.A fascinating record of early Dutch families relationships and land ownership by many members of one of the Dutch founding families of New York, the Van Wagenens. - The deed resolves a dispute over land ownership in Dutchess County. The Heermans were early settlers of Ulster Co., NY. The families were interrelated. The first to arrive in Ulster County was Jan Focken Heermans, listed in the tax lists of Kingston in 1711 as Jan Focken. He married Engeltje Breestede. Son Jan born in NY Nov 3, 1677. He married (about 1697) Annatje Aartsen (Van Wagenen) and deceased in 1724.The deed reads,"Know all men by these presents that we Gert van Wagenen, Barrent van Wagenen both of Dutchess County Yeomen Simon van Wagenen of Kingston in the County of Ulster Yeoman, Gerrit van Wagenen of the same place weaver, Hendricus Heermans and Antje his wife of Dutchess County aforesaid Yeoman, Andries Heermans and Neeltje his wife of Kingston, aforsaid shoemaker, heirs of Gerrit Hartson late of Kingston aforesaid Deseased (sic)…Certain Lott (sic) of Land in Dutchess County being Lott No. two which is just fifth parts of a certain lott no. three as also two just ninth parts in the Lott No. five… Certain fly or marsh scittuate (sic) lying and being in Dutchess County aforesaid commonly called Jacomyntjes Fly. Bounded westerly by the Hudsons River and on all other sides by the Land of the said Heermans..." (Inserted between the 4th and 5th line "Gerrit van Benthuysen eldest son and heir at law of Jannetje Benthuysen late wife of Barent van Benthuysen deceased").The deed awards the land to Goss van Wagenen, to sell or dispose of as he pleases. (He is the son of the deceased Jan). Sealed in Dutchess County "this 8th day of February Anno Domini 1724/5".7 parties to the deed have signed, with 9 red wax seals: Evert van Wagenen, Simon van Wagenen (older man's signature), Ger van Wagenen (younger man's signature), Hendrikus Heermans (middle age), Aantje von Wagenen, Andris Heermans, and Neeltje van Wagenen. Witnesses' signatures are: Arin Roosa and Coernelus Elmendoerp (Cornelius Elmendorp was married to Enjeltje, daughter of the deceased son Jan Van Wagenan).Gerrit H. Van Wagenen wrote a work on the Heermans family history, entitled 'Early Settlers of Ulster Co. NY, The Heermans Family', in which the relations of the 2 families and their land ownership in Dutchess County can be seen:Jan Focken Heermans, originally from Ruynen, Holland, was married in the Dutch church NY on August 23, 1676 to Engeltje Breestede. His will (dated Oct 20, 1724) mentions a daughter Margarieta born at Kingston NY, Dec 25, 1715; the sponsors are Barent Von Wagenen and Lea Schepmoes.Jan Heerman's sons married van Wagenen sisters: Andries and Hendricus Heermans married Neeltje and Annatje Van Wagenen. Andries Heermans (born Kingston, April 12, 1685), married Neeltje Van Wagenen, daughter of Gerrit Aartsen (Van Wagenen) and Clara Pels, and Hendricus Heermans (born in NY Sept 3 1681), married Annatje, sister of Neeltje Van Wagenen.In 1766 a will of "Andreas" Heermans of Rhinebeck (March 4, 1766) - gives to the five children of his deceased son Jan (Jan, Abraham, Goze, Jacob and Jacomynte), land on "Wappaensche Creek" in Dutchess County. (The NY Genealogical and Biographical Record, Vols 21-24, edit Richard Henry Greene et al. 1890, p. 58-61).Slightly foxed; old folds with slight loss at 2 intersections otherwise in very good condition. - A rare early deed settling a land dispute by one of the Dutch founding fathers of New York.
Keywords: WIC New Netherland wic general
Price: EUR

935.00

= appr. US$ 1016.20 Seller: Gert Jan Bestebreurtje Rare Books (NVvA/ILAB)

- Book number: 35816