Ask a question or
Order this book
Browse our books
Search our books
Book dealer info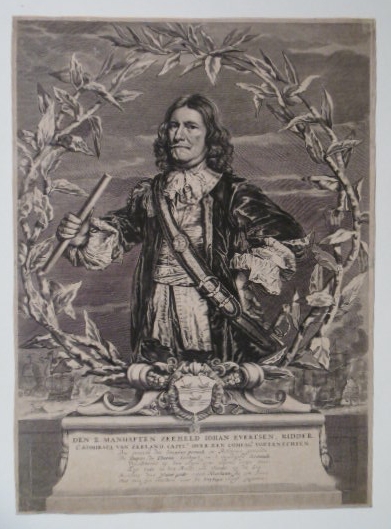 Author: EVERTSEN, JOHAN.
Title: Den e. manhaften zeeheld Johan Evertsen, ridder, Lt. Admirael van Zeeland, capit. over een compag. voetknechten.
Description: (No place, ca. 1665).Engraved half length portrait with baton within laurel-wreath with his coat of arms and with naval battle in the foreground on both sides by Aernout de Jode. With six rule poem . Ca. 47,5 x 34 cm. (2 corners rep.).Johan Evertsen (1600 - 1666), a member of a Zealand seafarer's dynasty, is already at the age of 18 reported as captain of a ship. He fights near La Rochelle in 1625 under Willem de Zoete and in 1626 and 1627 in a campaign against the Barbary Coast under Laurens Reael. Between 1628 and 1636, he distinguished himself while fighting the Dunkirk corsairs. His greatest successes were in 1628 preventing the interception by the Dunkirkers of the captured treasure fleet of Piet Heyn and in 1636 the capture of the famous corsair Jacob Collaert. He also played an important part in the Dutch victory in the Battle of the Slaak against the Spanish. In 1637 he becomes Vice-Admiral and commands in 1639 a squadron in the Battle of the Downs in which he destroys the Portuguese Admiralship Santa Teresa, killing 800 of the 1000 men crew. - Fine.Muller, Portetten 1591.a: zeer fraai exemplaar; Van Gent & Paesie, Zeeuwse zeehelden, pp. 97-106; See Roos, Het admiralengeslacht Evertsen. .
Keywords: Dutch maritime history prints prints maritime prints portrait
Price: EUR

495.00

= appr. US$ 537.99 Seller: Gert Jan Bestebreurtje Rare Books (NVvA/ILAB)

- Book number: 33803
See more books from our catalog:
Dutch maritime history