Ask a question or
Order this book
Browse our books
Search our books
Book dealer info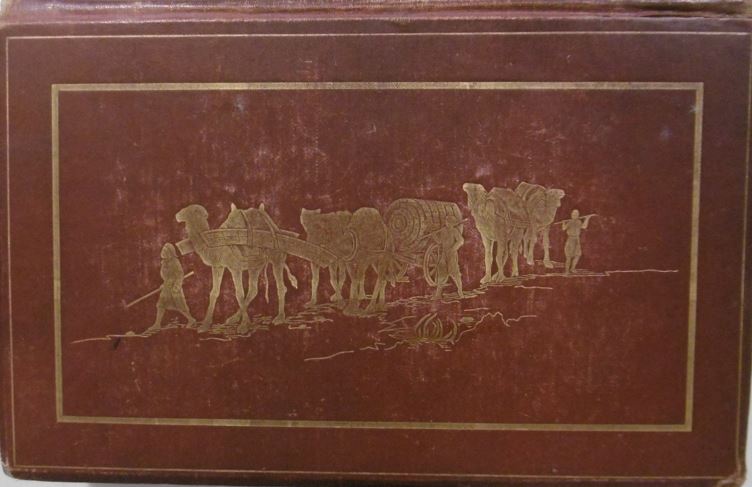 Author: BAKER, SAMUEL WHITE.
Title: Ismail´a: a narrative of the expedition to Central Africa for the suppression of the slave trade. Organized by Ismail, Khedive of Egypt.
Description: New York, Harper & Brothers, 1875.Original brown pictorial cloth with gilt vignette of a camel caravan on the upper cover (extremities of spine dam.). With engraved portrait, 2 coloured maps (1 folding) and many woodengraved plates. 542 pp.First American edition. - 'This work by the celebrated traveller and sportsman describes his extremely difficult and eventful journey to, and administration in, the Sudan. He was the first Englishman to take high office under the Egyptian government. Although well-equipped and accompanied by a substantial number of troops, he had to contend with the hostility of the slave-traders (who fought several pitched battles against him) as well as that of the terrain' (Blackmer Sale). Samuel Baker (1821-1893) was a British explorer, naturalist, and big game hunter, chiefly remembered for his exploration of central Africa and the "discovery" of the Albert N'yanza (Lake Albert), the source of the Nile River. With him was his wife, a voluptuous Transylvanian he had spirited away from a Bulgarian slave market under the nose of the local pasha, saving her from a lifetime in the harem. Taking the name Florence, she would never leave her husband's side (Howgego, The book of exploration, p.256).Hess & Coger 179; Ibrahim-Hilmy I, p.49; Czech p.11; Gay 2578; Scheybeler, Paolo Bianchi Collection, 25; Howgego IV, B10.
Keywords: Africa Egypt Sudan
Price: EUR

302.50

= appr. US$ 328.77 Seller: Gert Jan Bestebreurtje Rare Books (NVvA/ILAB)

- Book number: 32256