Ask a question or
Order this book
Browse our books
Search our books
Book dealer info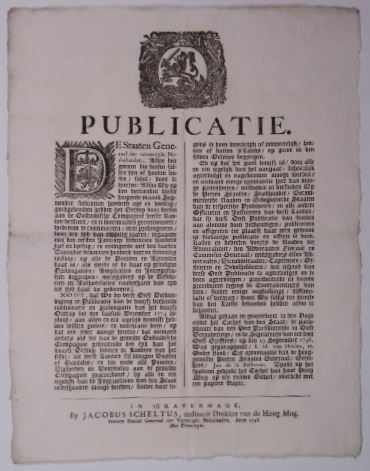 Author: CHARTER OF THE EAST INDIA COMPANY.
Title: Publicatie. De Staaten Generaal der Vereenigde Nederlanden .. doen te weeten .. goedgevonden hebben het octroy voor deesen aan de Oostindische Compagnie deeser landen verleent/ en te meermaalen gecontinueert/ wederom te continueeren/ en te prolongeeren/ voor den tijd van twintig jaaren ..
Description: 's Gravenhage, Jacobus Scheltus, 1748. Broadside with woodcut coat of arms of the Republic, lion with sword and 7 arrows, in an elaborately decorated cartouche with military attributes and woodcut initial. Ca. 41 x 30 cm.Official announcement by the States General of the eighth extension of the charter of the Dutch East India Company (VOC) for a period of twenty years, from January I, 1755, to December 31, 1774. The announcement is dated September 19, 1748. - A nice copy.Landwehr, VOC, 21.
Keywords: VOC Dutch East India Company voc general
Price: EUR

522.50

= appr. US$ 567.88 Seller: Gert Jan Bestebreurtje Rare Books (NVvA/ILAB)

- Book number: 31881