Ask a question or
Order this book
Browse our books
Search our books
Book dealer info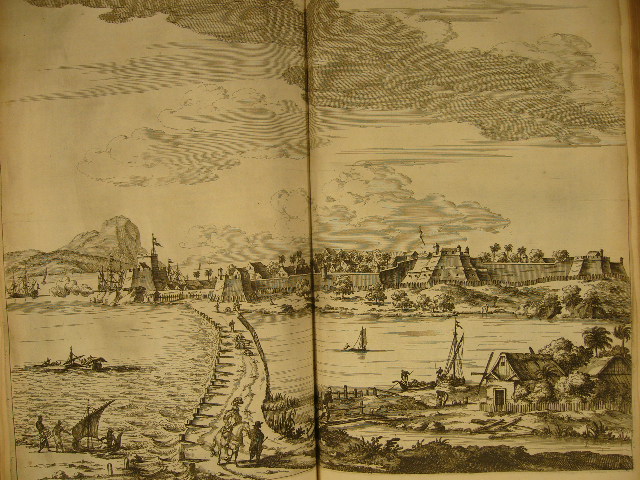 Author: BALDAEUS, PHILIPPUS.
Title: Naaukeurige beschryvinge van Malabar en Choromandel, der zelver aangrenzende ryken, en het machtige eyland Ceylon. Nevens een omstandige en grondigh doorzochte ontdekking en wederlegginge van de afgoderye der Oost-Indische heydenen. .. Zijnde hier by gevoeght een Malabaarsche spraak-konst.
Description: Amsterdam, Johannes Janssonius van Waasberge en Johannes van Someren, 1672.3 volumes in 1. Folio. Contemporary blindtooled vellum (1 hinge restored), with modern ties. With title printed in red and black with printer's device, engraved allegorical title-page, coat of arms, 1 (of 2) engraved portrait by A. Blooteling of the authour (missing the portrait of Geraerd Hulst), 3 plates depicting Malabar characters, 34 engraved maps and plates (mostly double-page), and 52 engravings in the text. (10),198;132 (=232);188,(11) pp.First edition.- The book by Filippus Baelde (1632-1672) is divided into three parts: the first is a description of coastal India, the second treats Ceylon, and the third is a discussion of Indian religion. In the first two parts he describes the towns, their trade, the surrounding countryside, and the people, and he devotes a large amount of space and much detail to the rise of Portuguese power in the various parts of India and to the later Dutch conquest of many of those places. In part two, for example, he uses about 150 pages to tell the story of the Portuguese conquest of Ceylon, Portuguese relations with the king of Kandy, Dutch negotiations with Kandy beginning with Spilbergen's visit in 1602, the Dutch conquest of Portuguese Ceylon, the VOC's continued difficulties with Kandy, the problems of governing Ceylon, and the attempts to reform the church there. Baldaeus' description of Hindu religion in part three depends heavily on Abraham Roger's work but also contains new information gained from his own observations' (Lach, Asia in the making of Europe, III, p.494). He introduced also some specimens of the Tamil language, including the translation of the Lord's Prayer, the first treatise, printed in Europe, on any Indian language.The fine plates and illustrations, in excellent impressions, represent the cities of Surat, Cochin, Tuticorin, Negapatam, Masulipatam, Galle, Negombo, etc., natives, costums, ceremonies, churches, fighting scenes, fortifications, elephant-hunt, etc. - A most important printed source for the establishment of Dutch power in Ceylon and south India. - A fine copy.Tiele 70; Cat. NHSM I, p.240; Landwehr, VOC, 556; Goonetileke 1912.
Keywords: Asia Ceylon Sri Lanka Dutch travel India VOC Ceylon Sri Lanka VOC Dutch East India Company VOC India
Price: EUR

3575.00

= appr. US$ 3885.48 Seller: Gert Jan Bestebreurtje Rare Books (NVvA/ILAB)

- Book number: 2034