Ask a question or
Order this book
Browse our books
Search our books
Book dealer info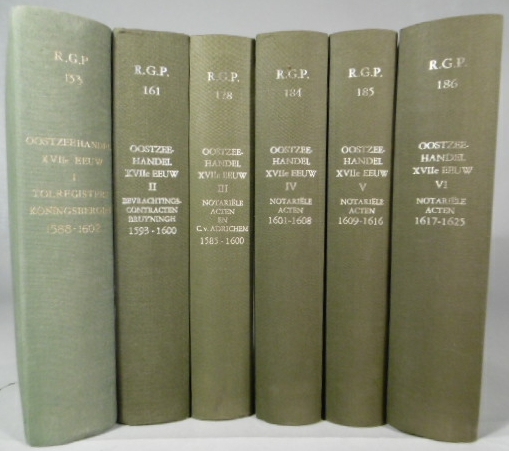 Author: WINKELMAN, P.H. (RED.).
Title: Bronnen voor de geschiedenis van de Nederlandse Oostzeehandel in de zeventiende eeuw.
Description: 's Gravenhage, 1971-1983. 6 volumes. Cloth.R.G.P. - In the 17th century, the Dutch called the trade on the Baltic the 'mother of all trades', as they considered it to be the basis of most of their trade and shipping and indeed the cornerstone of the Dutch economy. For a very long time the mass grain exports from the Baltic were dominated by the Dutch, and Amsterdam was the central entrepôt from which the grain was distributed over the rest of Europe. 1. Nederlandse rekeningen in de tolregisters van Koningsbergen 1588-1602. XVIII,824 pp. 2. Amsterdamse bevrachtingscontracten van notaris Jan Franssen Bruyningh 1593-1600. With illustrations. L,626 pp. 3. Acten uit de notariële archieven van Amsterdam en het noorderkwartier van Holland 1585-1600. Het koopmansarchief van Claes van Adrichem 1585-1597. With illustrations. XXVIII, 636 pp. 4-6. Amsterdamse bevrachtingscontracten, wisselprotesten en bodemerijen van de notarissen Jan Franssen Bruyningh, Jacob Meerhout e.a. 1601-1608. With map. LXXIV,642; VIII,672; VIII,856 pp.
Keywords: Dutch maritime history Dutch overseas VOC Dutch East India Company
Price: EUR

247.50

= appr. US$ 268.99 Seller: Gert Jan Bestebreurtje Rare Books (NVvA/ILAB)

- Book number: 10771